Diné Language Teacher Cohort Program
Yá
'át'ééh! Welcome!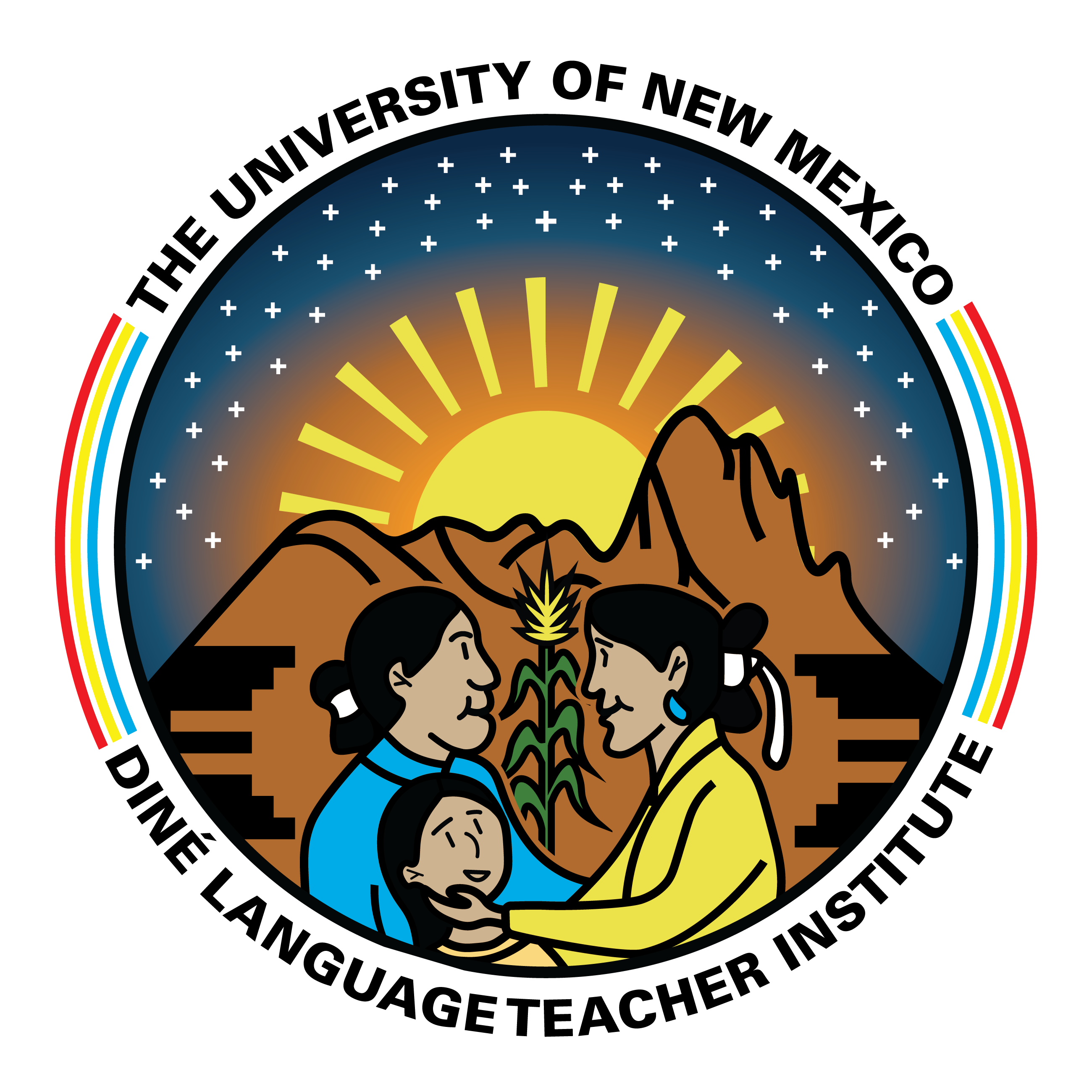 ---
---
Founded in 1889, the University of New Mexico sits on the traditional homelands of the Pueblo of Sandia. The original peoples of New Mexico – Pueblo, Navajo, and Apache – since time immemorial, have deep connections to the land and make significant contributions to the broader community statewide. We honor the land itself and those who are stewards of this land throughout the generations and also acknowledge our committed relationship to Indigenous peoples. We recognize their linguistic histories and affirm the value their languages and cultures carry within their communities, our state, and the world.
---
Purpose
The purpose of the Diné Language Teacher Institute (DLTI) cohort program is to support the unique needs of Diné communities to revitalize and sustain their languages by increasing the number of Diné language teachers. Increased heritage language use in communities is directly related to better outcomes in social issues such as suicide, diabetes, problems with socialization, historical traumas, and overall health status. The program recruits and trains prospective and experienced Diné (Navajo) language speakers/teachers from across New Mexico and beyond, preparing them to increase Diné language use in their communities through immersion instruction.
Program
This program is an institute for Diné language teacher preparation, for cohorts of Diné teachers in Navajo communities through sustained professional learning via an 18-hours college coursework, Summer/Winter Language Institutes combined with Family Immersion Camps, onsite instructional support, and curriculum development. Cohort members are required to put theory into practice during the Summer/Winter Family Immersion Camps, through an afterschool program, community events for parents, youth, and other community members. The aims of the DLTI include; Diné language teacher preparation, recruitment, mentoring, and sustained professional learning. The 18-hour UNM coursework developed for the DLTI focused on using language immersion methodologies for Diné language revitalization. All courses encourage a decolonized approach to language learning/teaching and use a Diné centered pedagogical framework based on Diné Philosophy of Education.
Currently, there are no institutions of higher education that provide this type of sustained professional learning for Diné language teachers. The DLTI's coursework is the only program that focuses primarily on Diné language immersion methodologies by putting theory into practice at community/school settings and fostering critical consciousness through community engaged education and research. Due to the institute's geographical service area, it is one of the only educator preparation models in the Nation and region to effectively partner with Indigenous communities and university/tribal institutions.
DTLI offers fully paid UNM tuition and fees, and stipends for organizing after-school and monthly community language events. All books and resources for the coursework are provided. If needed, school supplies are provided as well.
---
Announcements
---
Apply to join us at the 2022 Summer Immersion Camp! 
Events
---
2022 DLTI Summer Immersion Camp